14 best free mind mapping software for windows
XMind
The free version of XMind, a fully loaded mind mapping tool, lets you create amazing and expressive mindmaps. You can begin writing down your ideas on a blank canvas, or you can select a mind mapping template to begin working with. You can also select the type of node map or chart according to your requirement, followed by theme selection. All these options let you customize your mindmap to make it look better.
Talking about the features that count the most, Nodes and Links can be added pretty easily. Here nodes are referred to as Topics. Under a Parent topic, you can add Topics and Sub-topics. If you are on a sub topic, you can insert a Parent topic or Topic before. For all these operations, shortcuts are assigned. You can add a separate node apart from the main tree; its called as a Floating topic.
To connect a Floating topic, use the Relationship option. For each node, you can add Labels, add Notes, add Hyperlinks, add Comments, and add Attachments.
Text formatting option of this brain mapping software lets you change map structure, choose map style, change text attributes (font, size, color, etc.), node shapes, node borders, and attributes of connecting lines.
Another good option available here is that you can add icons as markers. These markers include icons to display numbers, task priority, task progress, flags, stars, arrows, symbols, months, days of week, and some emoticons. Simply drag a marker and drop at the desired node.
A mind map can be saved as XMind Workbook and exported as JPEG and XML. Other export options are also available, but they are available in the Pro version.
There are various other features that you can unlock by upgrading to Pro version. Some of the Pro features are: Mind map merge, Clipart, Audio notes, Gantt chart, export as PDF/DOC, Slideshow, etc.
1. Coggle
Coggle is an online tool for creating mind maps. The app lets you and your team collaborate on notes, brainstorm ideas, and create project plans. Every mind map starts with a single central topic. Click the Plus (+) button to add a branch and enter your text in the box.
You can format text, insert links, add images, and icons to elaborate the key points. From here onwards, continue adding branches as per your needs. You can even create a cross-link to other items in a mindmap. Open the context menu, press the Shift key to bring the cross-link icon. Then, drag the cross-link line.
You can create three private diagrams with a free account, collaborate in real-time, and upload unlimited images. The export options include .MM, TXT, Microsoft Visio, PDF, and JPEG. Check out the to explore premium features.
Unique Features
Add multiple central nodes in a single workspace. Then, create loops and branches to connect other mind maps and see relationships.
It supports keyboard shortcuts and has a vast collection of templates in Coggle Gallery to quickly start your projects.
View the version history of the mind map. Check who last edited the map along with the date and make a copy of it at a particular time.
Message team members, leave notes, and even chat in real-time to brainstorm ideas. You can auto-arrange branches to associate the content of each branch with the things around it.
Functions
Freeplane supports the above application areas with the following functions:
Note taking with freely positionable, unconnected nodes (like post-it's);
Ordering ideas (nodes) into a hierarchy connected by lines (edges);
Classifying nodes with metadata (attributes) and style types (system styles, user defined styles, level styles);
Grouping nodes with visual containers (clouds) and accolade (summary node);
Connecting nodes with dynamic links, free lines (connectors) and labels;
Automatically styling nodes (with a bubble, color, edge type, etc.) according to hierarchical level and content (conditional styles, automatic edge color, level styles);
Structuring nodes in terms of content (text, scientific formula, calculation, icon, image and hyperlink) and presentation area (core, details, notes, attributes, images and tooltip);
Changing views by hiding content (folding branches, filtering, roll-up of details and hiding extensions in tooltip), finding, scrolling and navigating;
Tasking with calendar and reminders;
Password protecting of whole map and of individual nodes with DES encryption;
Ease of use with inline- and dialog editors, object oriented main menu, context menu's, multi-language support, spell checker, properties panel, drag& drop functionality, hot keys, options for batch execution, publishing, sharing and selectable preferences;
Approximate Search (similarity search) which allows to find search terms in a text, even if there is no exact match (e.g. «setup» = «set up» or «flie» = «file»).
Support for LaTeX formulae underneath/in nodes
Easy extension of functionality with add-ons and home made scripts;
Integration with Docear academic literature suite;
Extensive support through Wiki and Forum; and tutorial and documentation in the form of a mind map.
The map called Freeplane functions illustrates the main functions of Freeplane. Besides it provides an index with hyperlinks to the tutorial an documentation where you can read more. The links are hidden at first, but become visible and can be clicked if you hover with the cursor over a function (node). This is another example of the power of Freeplane. (To experience these functions, open Help > Getting Started in the Freeplane program and select Index).
Make a Mind Map in Microsoft Word
Picking the right mind map tool for your workflow is not easy. The apps discussed above cover a wide range of features, needs, and budgets. If you're just getting started with a mind map, try out this free or inexpensive tool and see if it fits your needs.
Do you know that you can use Microsoft Word to draw quick mind maps? There are some simple rules to follow, but you don't need a complicated app for making a basic mind map. So instead, read this piece on how to make a mind map with Microsoft Word.
Image credit: Andrey_Popov/Shutterstock
How to Build a Mind Map in Microsoft Word
Microsoft Word may not be the first tool you pick for mind maps. But with these tips, Word can be effective for mind mapping.
Read Next
About The Author
Rahul Saigal
(162 Articles Published)
With his M.Optom Degree in Eye Care Speciality, Rahul worked as a lecturer for many years in the college. Writing and teaching others is always his passion. He now writes about technology and make it digestible for readers who don't understand it well.
More
From Rahul Saigal
Экспорт готовых карт
Когда карта готова и сохранена, ее можно экспортировать в любой
формат:
в виде отдельной ветки в новую карту;
в формат файла html;
в файл html с поддержкой flash;
в файл xhtml (интерактивная карта);
в текстовый документ OpenOffice/LibreOffice (текст, который вы
сейчас читаете, бы первоначально создан во FreeMind и затем
экспортирован в формат .odt пакета LibreOffice);
в графический файл формата jpg или png (смотрите пример на
рисунке 3).
Возможности презентации или использования созданных вами карт ума
практически безграничны.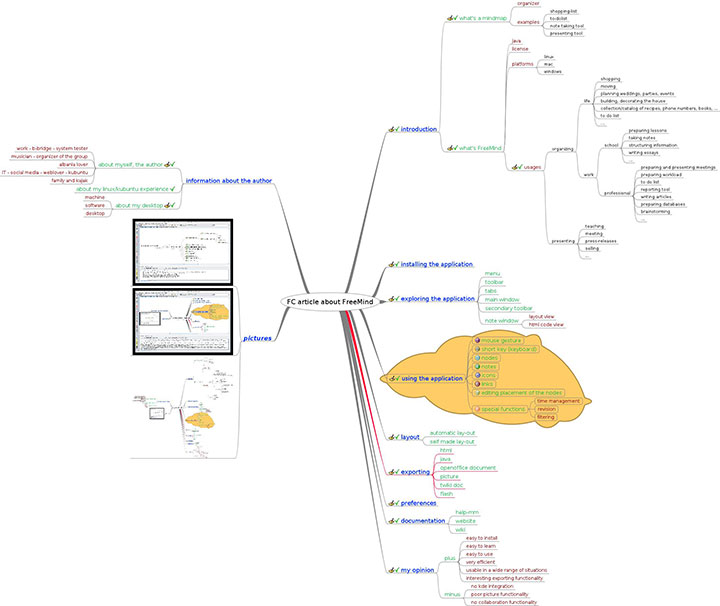 Рис.3 Диаграмма, преобразованная в графический файл
Conversions
Format
Direction
Lang.
Link
Note
BooguNote(.boo)
C++&WTL
mm's editor in GTD way (start with version 0.3.0.3)
semAuth
XSLT
Tab-indented text
→
Python
Also useful for automated conversions
→
XSLT
convert TDL to mm
←
XSLT
convert mm to TDL
←
XSLT
convert mm to Task Coach
del.icio.us
→
Java
N/A
Emacs Planner
→
Perl
N/A
Emacs Org Mode
→
elisp
Only export emacs => FreeMind
Vym
→
XSLT
N/A
Mantis bug tracker
→
PHP
Export list of mantis issues as Freemind map, includes Freemind flash browser to view list of issues as mindmap in the browser.
Ganttproject
XSLT
N/A
.c,.h,.s
→
Perl
N/A
LaTeX article & book
←
Ruby
N/A
LaTeX beamer presentation
←
Perl
N/A
LaTeX beamer presentation
←
XSLT
Includes build.xml for Ant to integrate pdflatex
LaTeX beamer presentation
←
Java
Java rewrite for XSLT script, more features
Enhanced LaTeX beamer presentation
←
XSLT
Improves the previous convertor with notes and some richmedia features like images, clouds, LaTeX syntax compatibility and a basic HTML style parsing.
Meeting notes
←
Python
Converts meeting notes taken with freemind into easier to read HTML
←
Python
N/A
Microsoft Project
←
XSLT
Revised version added that will cater for dependencies (predecessors) and Durations (in hours, months or days as well as the MS Project format)
Microsoft Project
→
Python
Creates FreeMind map from MS Project (.mpp or .xml) files. Can add some attributes (eg. Task Duration) and flag completed Tasks
Java objects
Java
Graphviz DOT-Format
←
XSLT
Topic Map (XTM)
XSLT
Mind Mapper
XSLT
Thunderdell
 ?
Python
Bibliographic conversion (Licence: GPLv3)
FreeMind|GTD
→
Online XSLT
Online extraction of GTD-style Next Actions from a mindmap
mm files
python
Import/Export python codes into mm files.(Licence GPLv3).
Textile
←
C# (?)
Convert a FreeMind mind map to textile, a markup language for text formatting used by some web applications, such as Basecamp. Requires Microsoft .NET Framework 4.0.
See also
MindMeister
Этот сервис предлагает весь необходимый функционал для написания заметок, мозгового штурма, планирования, генерации идей и создания базы знаний.
Позиционирует себя как №1 и хвастается аудиторией в 1,4 млн менеджеров, студентов, маркетологов и др.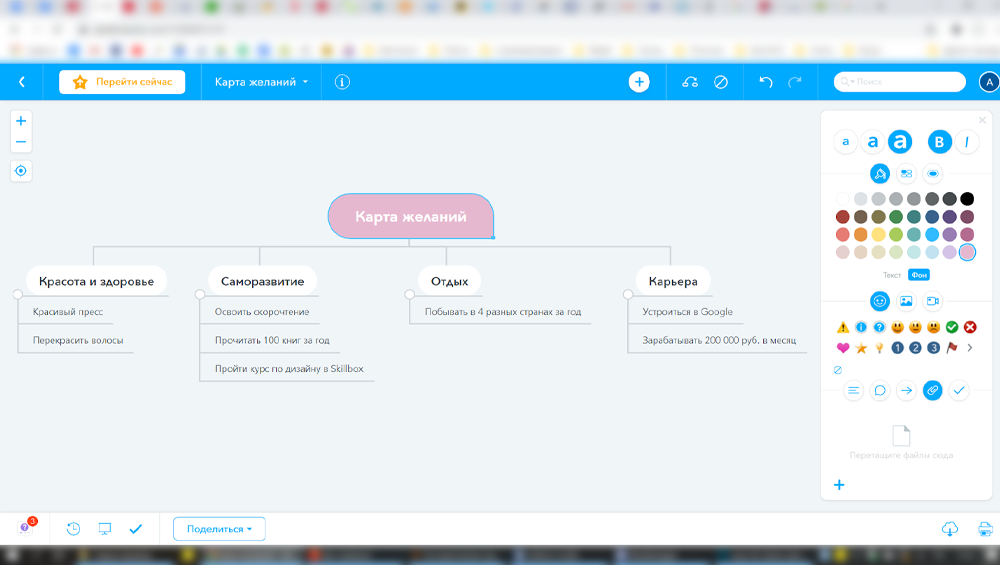 Так выглядит интерфейс MindMeister
Платформы: веб-приложение, мобильное приложение (Android, iOS).
Возможности:
Кастомизация фона и дизайна карт (использовать встроенные темы или редактировать элементы самостоятельно).
Добавление изображений, видео, иконок и файлов (из встроенной галереи, со своего устройства или из интернета). Максимум 10 ГБ.
Режим презентации (их можно встраивать на сайт), интеграция с MeisterTask — инструментом для управления проектами.
Примечания, комментарии, ссылки. Командная работа и общение в чате.
Сохранение истории и возврат к предыдущим версиям, резервное копирование.
В зависимости от тарифа можно экспортировать и импортировать карты в различных форматах (в том числе из других майндмэп-сервисов, например, XMind, FreeMind).
можно сделать три интеллект-карты, использовать режим презентации, работать со встроенной галереей значков и изображений.
Платные тарифы открывают больше возможностей для персонализации, импорта и экспорта, совместной работы. Стоимость — от 4,99 доллара в месяц: чем дороже, тем больше функций и пользователей. У платных тарифов нет ограничений по количеству создаваемых карт.
Документация
Подробная информация о программе FreeMind и возможностях по ее
использованию доступна через меню Help. Помимо этого, в программе есть
еще несколько способов получения справки:
при создании карт ума можно воспользоваться контекстной справкой,
подсказывающей доступные варианты работы на данный момент;
имеется краткое руководство пользователя по клавиатурным
сочетаниям в формате pdf, которое настоятельно рекомендуется к
прочтению — это особенно полезно, если вы не меняли стандартных
настроек программы;
в Интернете существует wiki-проект, посвященный программе
FreeMind. На нем представлена полная информация о данном приложении:
документация, справка, страницы часто задаваемых вопросов (FAQ). Все
это вы можете легко найти на .
Также не забывайте посетить страничку ,
на которой вы можете выразить благодарность разработчикам программы.
Это единственный способ внести посильную помощь в разработку FreeMind.
Вывод
Компьютеры и программное обеспечение помогают существенно облегчить
нашу жизнь и сделать ее более комфортной. Программа FreeMind является
как раз одним из таких продуктов: она легко устанавливается, также
легко поддается изучению, очень эффективна для решения задач самого
широкого диапазона и имеет интересные способы экспортирования
результатов своей работы. Конечно, существуют некоторые негативные
моменты (а как же без них?) при работе с программой, но они настолько
незначительны, что можно с легкостью закрыть на них глаза. Это, в
первую очередь, слабый функционал для редактирования картинки и
отсутствие полноценной интеграции в среде KDE. Еще один недостаток —
программа имеет однопользовательский режим работы, поэтому совместная
работа нескольких пользователей над одним проектом невозможна (пока еще
невозможна). Однако, взамен этого можно пересылать своим коллегам
рабочие файлы по электронной почте; а также разнообразные способы
экспорта проекта в файл.
Призываю вас не откладывать и попробовать программу FreeMind прямо
сейчас. Установите ее и создайте какую угодно карту ума в ней — вы не
будете разочарованы в возможностях этого приложения.
6. EdrawMind
EdrawMind is a cross-platform mind mapping software. The user interface matches the familiar Office UI. The app lets you insert various mind map objects like relationship lines, callout, clipart, picture, link, attachment, note, tags, and more.
The left panel is your canvas. You'll find options to adjust the content in the right sidebar, change the appearance of your diagrams, add a background, view, and export outlines. There's a handy color strip below the canvas to set the line and fill color.
Unique Features
Twelve different mind map layouts along with dozens of ready-made templates to infuse creativity.
Automatically create slides by disassembling your mind map into separate branches. Add notes, background, design to the slides, and export them as PPT or PDF.
Store files in Edraw cloud storage for access and collaboration in real-time. You can run group brainstorming sessions and collect ideas.
Handy Gantt Chart mode to visualize and track progress on any project.
Download: EdrawMind (Free, Pro: $59/yr, Perpetual: $145)
YouMinds Composer
YouMinds Composer lets you make detailed mindmaps for free. Although the free version does not have all the features the Pro version has, it can create mindmaps easily. Along with mindmaps, you can make Timeline, Organizational chart, and Note sheet book with this free mind map program.
Adding a Parent node, Child node, and Sibling nodes is easy, and can be done by pressing respective shortcuts. Nodes can be customized here, and you can change node color, shape, opacity texture, size, and much more. Text formatting lets you choose text font, color, and size. Visual tags can be added to nodes in form of smileys as well as clipart. You can also add Hyperlink to nodes here.
A task manager is available to add tasks for specific date along with task priority.
An advanced filter is available, which can be used to look for desired text or node across a vast map.
Export options are available for a vast range of formats: png, jpg, bmp, svg, html, pdf, and txt.
This mind mapping software has a very interesting feature to start a team session to collaborate and make a mindmap. There's also a chat box to chat with the team participating in a session.
4. InfoRapid KnowledgeBase Builder
Traditional mind mapping tools are hierarchical. When you start creating complex linkages, they quickly get confusing and unusable. But with this app, you can join multiple ideas, and yet it adjusts your map dynamically to an elegant layout. You click a topic, and everything rearranges around it automatically.
You can build a mind map from scratch, import notes, links, images, and attach them to any item or a relation. There is also an option to integrate it with a data source to create a mind map from text files, Wikipedia articles, and tweets.
To get started, type in the topic name and click New Item. For each topic, type a name and add a description. You can add descriptive linking phrases on relationship lines and select colors, dotted or solid lines. Or even customize the style of the ends, with or without arrows.
Unique Features
Insert multiple items, edit or delete them, and use drag-and-drop for moving relations.
Toggle between a 2D and 3D displaying mode and show or hide cross-connections. You can export 3D mind maps with hyperlinks and embed them on your website.
Build a map from MediaWiki, including all the sister Wikipedia sites. And import outlines from CSV, RDF, XSD, and more.
Generate flashcards to memorize items and practice the quiz sessions.
Download: Windows 10 ($10), Mac ($9) | iOS ($9), Android ($11)
Location Based Mind Mapping
Now, you can associate nodes of a mindmap with geographical locations. Each
node can have at most one location.
Use cases:
Store interesting places (eg. restaurants or business partner addresses)
Organize a geographical search. Examples:

house hunting
holiday location
The position, the map center, the zoom factor and the map source (the map provider, e.g. Mapnik) are stored. Moreover, a tooltip image is created and stored in the same directory as the map itself.
The positions of folded nodes are not displayed in the map viewer. Thus, the mind map structure is represented in the geographical map as well.
To change a node's position, just drag&drop it.
The node's context menu contains more actions. Each can be applied to multiple selected nodes as well.
More location-based features:
You can add a little map as a picture to the node.
You can jump to a node (restoring its position, zoom, etc.).
You can remove its geographical position.
You can export the map view as an image.
In the viewer, you can use the mouse wheel to zoom, cursor to move and Shift + cursor to move page wise.
You can set a home position and use the «Pos1» key to navigate to it immediately.
You can select nodes and if you press shift with the right click, you can select rectangular areas as well.
You can search for places locally. This means, that the search takes only visible points into account. Try Control-L to activate the local search.
Open Source Success Story: Points of Interest

Thus, it is possible to see all schools of New York on the integrated FreeMind-OSM map as shown in this screen shot:
To create such maps, do the following:
You'll get maps with two folding levels of types for POI.
Other
Below is a Unix sed command to remove the optional data from a MindMap .mm file's XML to make it more reader-friendly, keeping only the TEXT attribute. After converting a MindMap file with this command, you can open the generated XML file in Firefox and use its XML element collapsing features to interactively view MindMaps even without Freemind installed.sed -e "s/ \(CREATED\|MODIFIED\|ID\|POSITION\|FOLDED\)=\"*\"//g" Old.mm > New.xml
For version 0.9, this command drops more:sed -e "s/ \(CREATED\|MODIFIED\|ID\|POSITION\|FOLDED\|COLOR\)=\"#\?*\"//g" -e "s/<\(font\|hook\)\+\?>//g" Old.mm > New.xml
FreePlane: расширенный вариант FreeMind
Один из сотрудников студии, разработавшей FreeMind, существенно изменил эту бесплатную программу. Результатом стал новый инструмент FreePlane, который вы можете скачать здесь. Интерфейсы обеих программ очень похожи, но FreePlane, несмотря на больший функционал, проще в использовании.
Вы можете создать в FreePlane симпатичные и индивидуализированные интеллект-карты. Соединительные линии позволяют связывать удаленные узлы, благодаря чему карты будут легко читаться даже с несколькими перекрестными связями.
Стили узлов позволяют выбрать индивидуальный дизайн и быстро его применить.
Пользовательский интерфейс был переработан, и в распоряжении теперь больше символов.
По желанию вы можете расширить программу FreePlane рядом полезных дополнений.
Why you want it
FreeMind users can have a look at the list of the most helpful features missed in FreeMind and available in Freeplane.
Documentation
The versatility of Freeplane is demonstrated by the fact that the main user documentation is contained in mind maps. The mind map on the right shows the basic Tutorial for using Freeplane. The actual version of this map is contained in the Freeplane program in menu Help > Tutorial.
This wiki contains a page Freeplane_Tutorial_Extensions with use cases which can be navigated or can be downloaded and extended. For some of the examples there are animations illustrating the making of the map. See Translated wiki pages if the page Freeplane Tutorial Extensions has been translated into your language. The advanced user is helped with detailed documentation in Freeplane'sHelp > Documentation and by many specific wiki pages explaining things like Scripting, Formulas and Add-ons. The mind map galleries provide a place for sharing mind maps in several languages. Online help is available at the open Forum, see below. It is possible to create a high quality animation or video of using Freeplane, see how to.
FreeMind: классика Mindmapping'a
FreeMind
Самым известным инструментом для создания так называемых интеллект-карт (mind maps) является FreeMind. Эта бесплатная программа с открытым исходным кодом предлагает большое разнообразие функций. Скачайте FreeMind для ПК здесь.
Каждую узловую точку диаграммы можно маркировать различными символами, которые помогут вам не потеряться в своих планах.
Продуманные сочетания клавиш позволяют работать быстро и эффективно. Например, нажмите «INSERT», чтобы вставить новый подпункт.
Текст любого узла можно редактировать в текстовом редакторе, в том числе используя списки в качестве элементов диаграммы.
Результат можно сохранить в HTML или PDF, так что вы сможете легко поделиться вашими планами с другими пользователями: им при этом не придется устанавливать программу.
Редактирование карты памяти
Эта функция программы все еще остается на базовом уровне. Выполните
переход в меню Format — Automatic layout. Ваша карта преобразуется в
обычную презентацию.
Но, все же, имеются некоторые дополнительные возможности. Любой из
выделенных узлов (один или несколько) могут быть отредактированы. Вы
можете изменить шрифт, размер шрифта, цвет шрифта, форму заметки; даже
граница формы заметки может быть изменена на ваше усмотрение
Можно
применить специальные эффекты — например, сделать их мигающими, чтобы
привлечь дополнительное внимание аудитории; или же объединить несколько
заметок в группу с помощью облака, придав им приоритет перед остальными
(для этого служит пункт меню Insert — Cloud). К узлам можно применить
различные стили оформления; для этого выделите нужный правым щелчком
мыши (пункт Physical Style) или же в главном меню — Format — Physical
Style)
InfoRapid KnowledgeBase Builder
InfoRapid KnowledgeBase Builder is one of a kind mind mapping software, which follows a creative, but easy approach to make mindmaps. 3D view of mindmap makes this software more interesting to work with.
Create an Item as a node, then enter topic description if need be. Press Insert to add a sub-node to the Parent node. Sub nodes to the Child nodes can be added as well. The node and text color is customizable, and can be changed easily from the Properties window. New relationship arrows can be added and their directions can be changed as well.
Other advanced features are not available; however, the creative way of creating mindmaps easily in 3D is the catch.
You can easily save your progress and work on it later. You can also upload your work to cloud on this software's server, but the uploaded item stays available only for 7 days. You can always export a created map as Image or CSV file.
The free version is only available for personal use; you cannot use it for commercial purposes.
FreeMind Review
FreeMind is a mind-mapping utility written in Java, meant to be a high productivity tool. Want to write an epic sci-fi novel, create a series of self-help books, or create a new religion from scratch? FreeMind might be the thing for you. Adept users can refactor essays the same way software devs refactor code. Or maybe you'd prefer to curate a personal knowledge base simply, as a personal encyclopedia of your research and insights that's much easier to manage than a pulpy notebook.
What FreeMind Can Do
— Keep track of projects, subtasks, subtask states, and time recording
— Project workplace links to files, executables, and information sourcing
— Workplace for online research with Google and other sources
— Keep a collection of expandable notes with links
— Essay writing, brainstorming, with an array of status trackers
— Database curating
— Comment enriched Internet favorites and bookmarks, with multiple highlighting and style options
FreeMind Features
— Fully functional HTML tracking
— Supports folding- its essential property
— Fast one-click navigation, folding/unfolding on a single click
— Large undo memory
— Smart Drag and Drop, including nodes copying, dragging and dropping off several selected nodes; dropping texts and list of files from without
— Nimble copying and pasting, including links from HTML or organizing pasted content based on the number of leading spaces
— Export of map to HTML, with folding
— Facility finds where the found items will be shown individually as you cycle through «find next», and the maps are unfolded for only the current item
— The ability to use and edit lengthy multiline nodes; even within new lines
— The option to decorate your nodes with various built-in icons, colors, and fonts
— Low exposure to the risk of switching away to other mind mapping tools. This is possible because FreeMind stores your maps in an XML format. If you have an extensive collection of maps made in FreeMind, and you want to switch over to another program, writing a conversion script should be easy. This is particularly true if that program has a Visual Basic scripting facility.
FreeMind will run on just about any system you like. It's won awards for its flexibility, its features and performance. It's a muscular mind mapping tool, with complex diagrams, branches, and icons to distinguish and interconnect your notes- connect them, and embed links to your maps for fast referencing. FreeMind can export maps into many different formats. Compared to most of the newer similar tools it looks a bit old- but it's still useful, especially if you're interested in function, and not just beautiful graphics.